Products catalog
CO.A.F
Via Marconi 41
20095 Cusano Milanino
(Milano) Italy
tel. +39-02.61.33.037
fax +39-02.36.55.01.47
info@coaf.it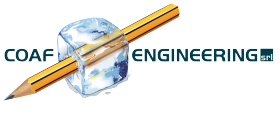 From 23 years on the Italian and International market but the company's technical staff total more than thirty five years' experience in the field of refrigeration, allow us to specialize in realization of monobloc, split system, professional rack system, liquid refrigerator, freezing tunnel, cooling equipment at -60°C temperature, food long conservation cooling equipment. 

The success in combining the efficiency of advanced technologies with the long lasting reliability of quality materials has resulted in our production also out of standard. 

CO.A.F's application could be used in many needs of  industrial, agricultural, food, dairy and pharmaceutical industries. CO.A.F. offer a large series of services from design and research and could solve particular and complicated problems, able to adapt himself and to develop at maximum the measuring of cold.
The turnover of last years has reached the  87% of foreign sales and only the 13% on the national market, this allow us to affirm with success in the foreign country where our quality product and company seriously was not yet knew. For this reason we have been chosen as supplier for Unicef and Onu for cooling equipment used for medicaments and vaccine conservations and industrial climatisation plants.